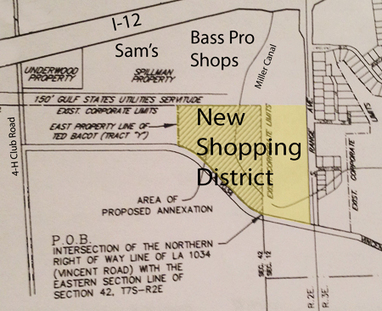 DENHAM SPRINGS — City officials Monday night took the first steps to develop a new shopping complex along Vincent Road and South Range Avenue that will complement Bass Pro Shops and rival the size of Juban Crossing.
Baton Rouge Real Estate News's insight:
'Springs' district near Bass Pro will rival Juban Crossing in size…BUT WILL SHOPPERS PREFER JUBAN CROSSING BECAUSE OF LESS TRAFFIC AND NO TRUCK STOP TRAFFIC TO DEAL WITH? ABSOLUTELY!
New Shopping District will add "360,000 square feet of retail space, including a supermarket, department store and numerous restaurants and smaller stores. The supermarket will have access from both South Range Avenue and Vincent Road, according to plans."
This and the future Juban Crossing are huge positives for Denham Springs and will hopefully increase tax revenues to help fund the poorer Livingston Parish as a whole, help repave these 8 to 14 year old newer subdivisions roads with potholes and a cash injection into public schools in desperate need of public funding! Right now, the poorer Parish doesn't have the money to properly maintain streets in subdivisions and public schools, which is why I see public school kids selling chocolate.
ADDED TRAFFIC. One concern I have for the Bass Pro retail area is "TRAFFIC" as that Truck Stop really needed to be shutdown and moved to a less populace area. If you're getting off at Range Ave and turning left, you mignt be in line with 4 to 8 18 Wheelers causing your delays. If you're driving from the south to get onto I-12 to left to head into Baton Rouge and get behind 3 to 5 of these big rig 18 wheelers, that will add 2 to 3 extra light cycles, which is really aggravating.
See on livingstonparishnews.com