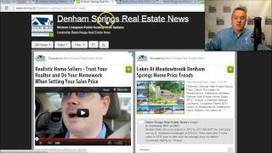 http://www.denhamspringsappraisers.com – Western Livingston Parish Denham Springs Walker Home Sales Trends comparison of the months of November 2011 versus N…
Baton Rouge Real Estate News's insight:
Below is a study of Western Livingston Parish home sales, All Ages, All Types located in GBRMLS Areas 81, 82 and 83, see map of those areas below. This study doesn't represent ALL home sales in the entire Livingston Parish area as my focus of home appraisal work isn't the entire Livingston Parish.
Read more http://www.batonrougehousingreports.com/2012/12/denham-springs-walker-home-sales-november-2011-vs-2012/
NOTE: This is a month-to-month comparison, not a yearly total comparison.
WESTERN LIVINGSTON PARISH HOME SALES SUMMARY:
GOOD NEWS SUMMARY! Median Sold Prices were up 5%, number of sales up 16%, homes under contract up 18%, average days on market down 16% and months supply of housing down 32%.
See on www.youtube.com